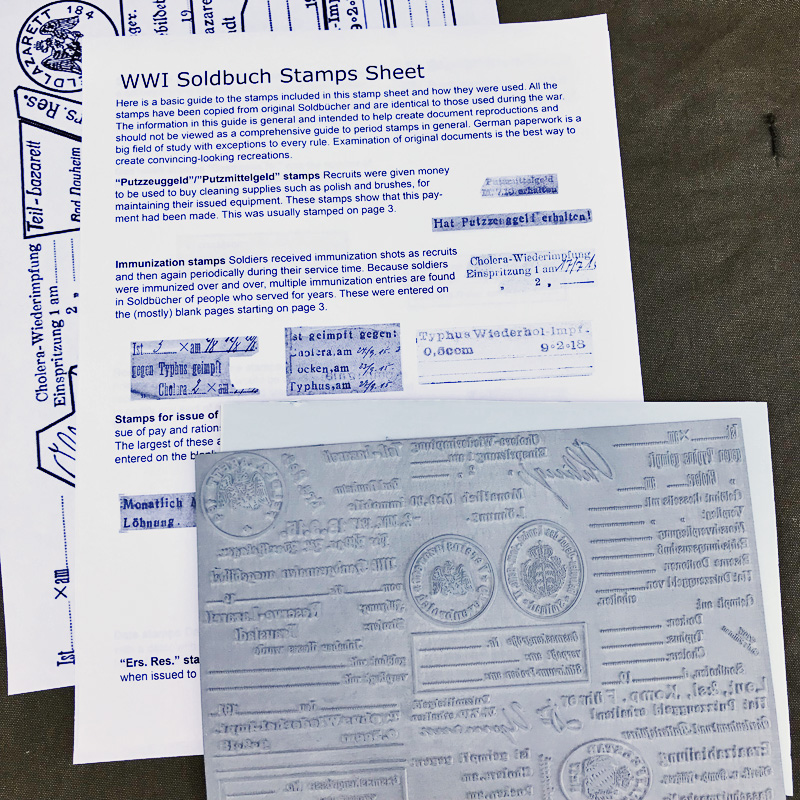 Stamp Sheet #7 includes the following stamps:
Unit stamps:
-Rekruten-Depot des Landst.-Jnft.-Batls. II Stuttgart
-K.B. Staffelstab Nr. 17
-Ersatzabteilung

Rank stamps:
-Oberlt. u. Komp.-Führer
-Oberleutnant und Batterieführer
-Leut. & sl. Komp. Führer
-Leutnant
Hospital Stamps:
-Vereinslazarett Grevenbroich
-Feldlazarett 184
-Teil-Lazarett Bad Nauheim
-Reserve-Lazarett Fraustadt
Miscellaneous Soldbuch stamps:
-4 different immunization stamps
-3 different stamps for issue of rations and pay
-"Ers. Res." rank stamp
-Hand grenade training stamp
-3 different gas mask issue stamps
-"Putzzeuggeld" and "Putzmittelgeld" pay stamps -2 different signature stamps
Date Stamps:
-2. MRZ. 1917
-8,9,15

TO ORDER: E-mail us at intrenches1945@gmail.com. The price for each sheet including the instructions and mounting cushion is $49 plus shipping (shipping rates are at the top of this page). Please specify which sheet or sheets you want to buy, we offer 8 different WWI and WWII stamp sets.
Home Page with other stamp sets and more.
Check Out What's New For Latest Updates and Current Projects
All photos and content Copyright 2010-2020 Christopher W Pittman and Nadine Wichmann