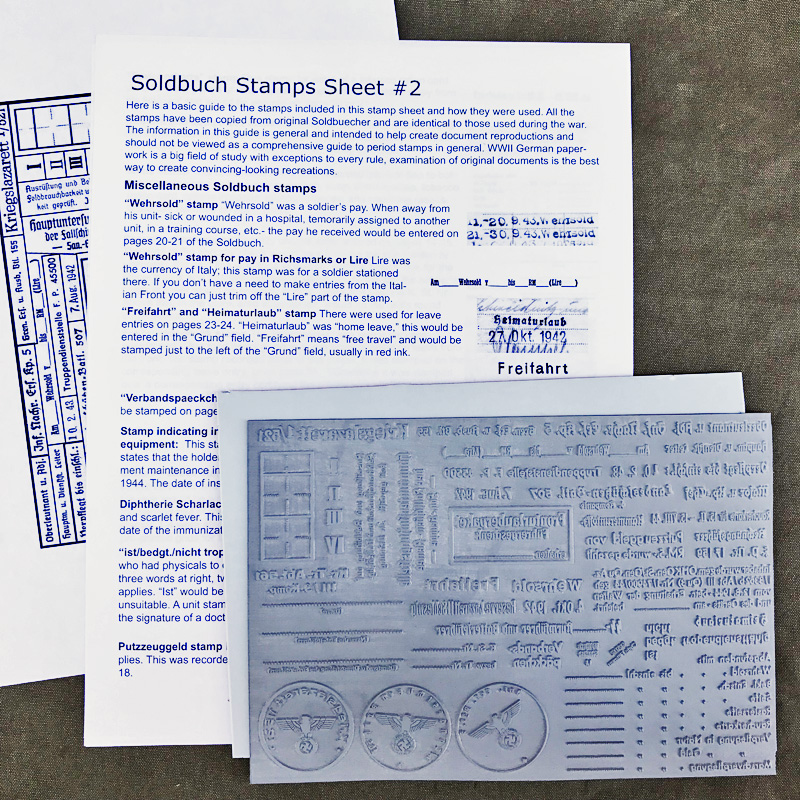 Stamp Sheet #2 includes the following stamps:
Miscellaneous Soldbuch Stamps:
-Wehrsold- for pay entries
-Freifahrt- for leave entries
-Verbandspaeckchen- Bandage issue stamp
-Diptherie/Scharlach 1,0- For diptheria and scarlet fever immunization entry
-"ist/bedgt./nicht tropendienstfaehig"- for tropical service inspection
-Heimaturlaub- for leave entries
-Stamp indicating instruction on maintenance of weapons and equipment
-Stamp indicating issue of 5 RM "Putzzeuggeld" for purchasing uniform and kit maintenance items
-Stamp indicating issue of "Raucherkarte," tobacco ration card
-Stamp indicating uniform and equipment have been inspected for completeness and serviceability
-Wehrsold stamp for pay in Reichsmark or Lire
-Stamp for issue of pay, soap, ration cards, rations
-Stamp for security checks
-Fronturlauberpaket/Fuehrergeschenk issue stamp
-"Verpflegt bis einschl.:" stamp for rations issue
-Grid stamp for security checks and I, II, III, IV stamps for checks
Rank stamps:
-SS-____sturmführer und Batterieführer
-Oberleutnant u. Adj.
-Hauptm. u. Dienstst. Leiter
-Major u. Kp.-Chef
-Rechnungsführer
-Kammeruntoffz. (for uniform and equipment issues)
Hospital and medical stamps:
-Kriegslazarett 1/521 round eagle stamp
-Kriegslazarett 1/521 line unit stamp
-Reserve-Lazarett II Schleswig line stamp
-Hauptuntersuchungsstelle der Fallschirm-Armee
-Kr.Tr.Abt. 561 line unit stamp (Kranken-Transport-Abteilung, for transport of sick/wounded)

"Generic" unit line stamps:
-F.P. Nr. 17159
-Truppendienststelle F. P. 45500

Ersatzheer/replacement/training units:
-4./Landesschützen Batl. 507 round eagle stamp
-4./Landesschützen Batl. 507 line unit stamp
-Inf. Ers. Rgt. 5 round eagle stamp
-Inf, Nachr. Ers. Kp. 5 line unit stamp
-Gren. Ers. u. Ausb. Btl. 155 line unit stamp

Date stamps:
-7. Aug. 1942
-4. Okt. 1942
-10.2.43
Stamp Sheet #3: Soldbuch C
Set #3 contains 48 stamps for the Soldbuch. None of these stamps are on any of the other sheets. As with the other sets, these are all exact copies of original Soldbuch stamps, with many also applicable to many other documents. More than 15 of these stamps would be appropriate for virtually any Soldbuch regardless of branch. There are lots of rank stamps, medical and immunization stamps, stamps for leave entries and equipment issue, and more.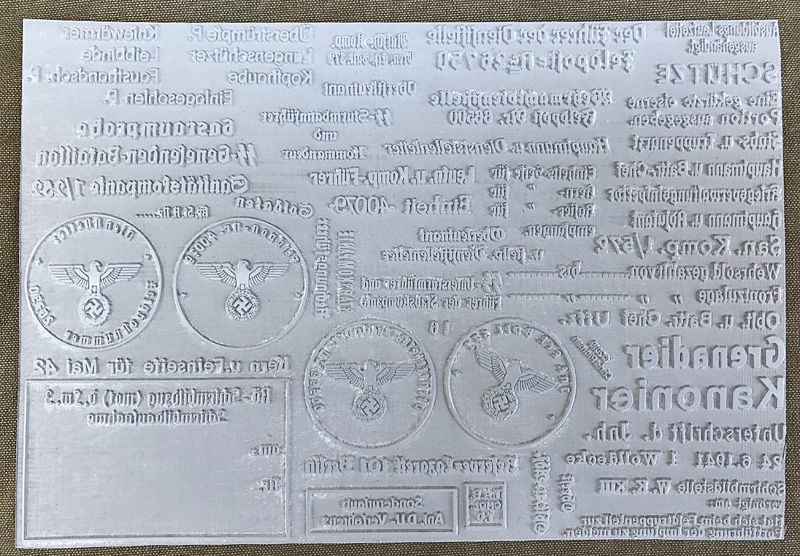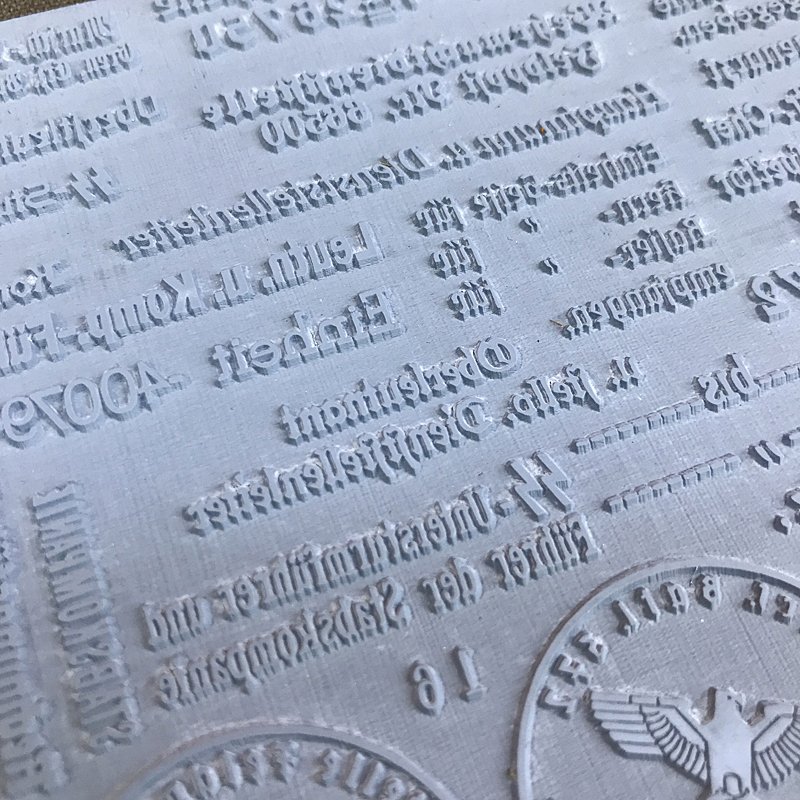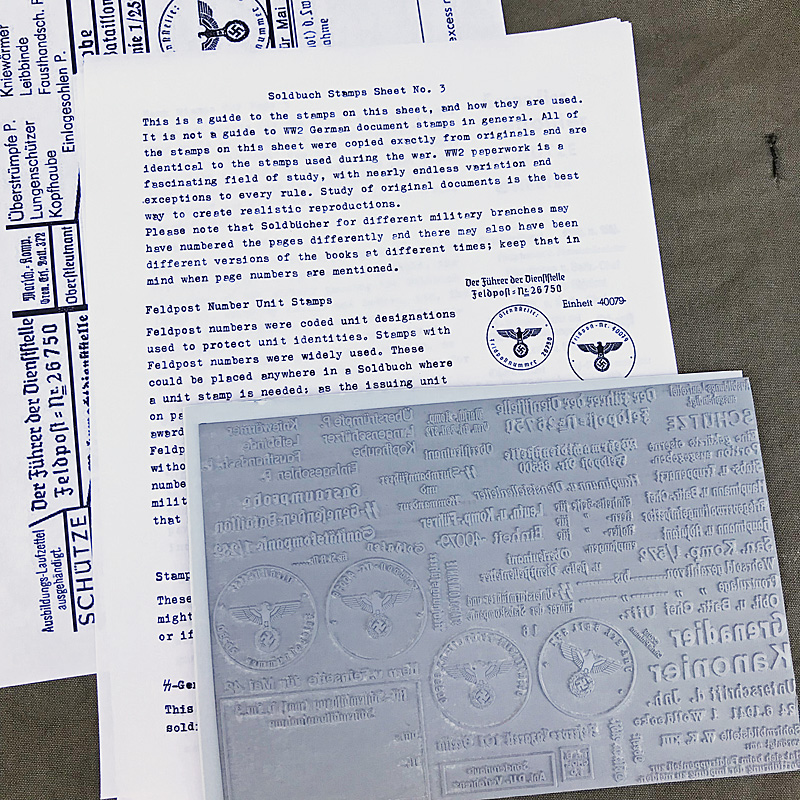 Stamp Sheet #3 includes the following stamps:
Feldpost Number Unit Stamps:
-Feldpostnummer 26750 round and line stamps
-Feldpostnummer 40079 round and line stamps
-Feldpostnummer 66500 round and line stamps
Stamps for Army "Ersatz" Replacement Units:
-Marschkompanie, Gren. Ers. Btl. 372
-Inf. Ers. Batl. 372 round stamp
Rank stamps for page 1: -Grenadier
-Kanonier
-Schütze
-Soldaten
Officer Rank Stamps:
-Obersteutnant
-Oblt. u. Adj.
-Hauptmann u. Dienststellenleiter
-Hauptmann u. Battr.-Chef
-Hauptmann u. Adjutant
-Oblt. u. Battr. Chef
-SS-Untersturmführer und Führer der Stabskompanie
-Oberst
-Leutn. u. Komp.-Führer
-Oberleutnant u. stellv. Dienststellenleiter
-SS-Sturmbannführer und Kommandeur
Other Rank Stamps:
-Uffz.
-Rechnungsführer
-Kriegsverwaltungsinspektor
Medical stamps:
-2 different X-ray stamps
-2 different immunization stamps
-Stabs- u. Truppenarzt
-Reserve-Lazarett 101 Berlin
-San. Komp. 1/572
-Sanitätskompanie 1/252
Stamps for issued items:
-Wool blanket issue
-Cold weather items issue
-Iron Ration issue
-2 different soap issue stamps
Miscellaneous Soldbuch Stamps:
-SS-Genesenden-Bataillon
-Gasraumprobe
-Stabskompanie
-Kr. St. R. Nr......
-"16" pay group stamp
-Ausbildungslaufzettel ausgehändigt
-"Sonderurlaub" leave stamp
-"Wehrsold" and "Frontzulage" pay stamp
-Unterschrift d. Inh.

TO ORDER: E-mail us at intrenches1945@gmail.com. The price for each sheet including the instructions and mounting cushion is $49 plus shipping (shipping rates are at the top of this page). Please specify which sheet or sheets you would like; I offer 8 different sets.
Home Page with other stamp sets and more.
Check Out What's New For Latest Updates and Current Projects
All photos and content Copyright 2010-2021 Christopher W Pittman and Nadine Wichmann