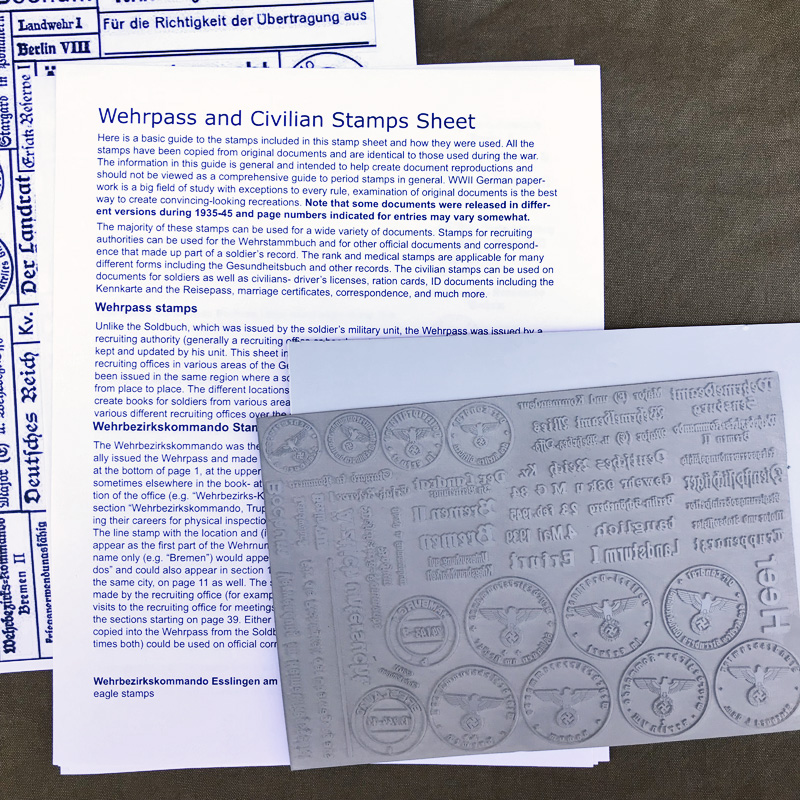 Stamp Sheet #2 includes the following stamps:
Wehrpass stamps
Wehrbezirkskommando Stamps
-Wehrbezirkskommando Bremen II: Large round eagle stamp, line stamp, line stamp "Bremen II," location stamp "Bremen"
-Wehrbezirkskommando Berlin VIII: Large round eagle stamp, line stamp "Berlin VIII," location stamp "Berlin-Schoeneberg"
-Wehrbezirkskommando Bochum: Large round eagle stamp, line stamp, location stamp "Bochum"
-Wehrbezirkskommando Esslingen am Neckar: Large round eagle stamp, small round eagle stamp
Wehrmeldeamt Stamps
-Wehrmeldeamt Sensburg: Line stamp, small round eagle stamp
-Wehrmeldeamt Mies: Line stamp
Miscellaneous Wehrpass Stamps
-"kriegsverwendungsfähig," "tauglich" and "Kv." stamps for soldiers fit for combat duty
-"Dienstpflichtiger" stamp for draftees
-"Deutsches Reich" nationality stamp
-"Gewehr 98 u. MG34" stamp for weapons training
-Service classification stamps "Ersatz-Reserve I," "Landwehr I," "Landsturm I"
-Stamps for physicals: "Untersuchung auf Kriegsbrauchbarkeit," "Aerztlich untersucht"
-"Für die Richtigkeit der Uebertragung aus..." stamp for replacement books/entries copied from other documents
-"Verwendung im Heimatkriegsgebiet" stamp for soldiers stationed in Germany
-"Heer" branch stamp for cover
Rank stamps
-Regierungsoberinspektor
-Major und Stabsoffizier
-Truppenarzt
-Major (E) und Kommandeur
-Major (E) und Wehrbez. Offz.
-Oberst u. Kommandeur
Civilian stamps
Landrat stamps
-Landrat Kreis Sternberg: Large round eagle stamp
-Landrat Kreis Gifhorn: Small round eagle stamp
-"Der Landrat..." signature stamp
Polizeipräsident stamps
-Polizeipräsident Erfurt: Large round eagle stamp, small round eagle stamp, location stamp "Erfurt"
Standesbeamter stamps:
-Standesbeamter Stargard: Large round eagle stamp, location stamp "Stargard in Pommern"
Miscellaneous stamps
-Date stamp 23. Feb. 1945
-Date stamp 4. Mai 1939
-Hamburg postmark 24 July 1943
-Breslau postmark 13 February 1944

Stamp Sheet #6: Feldpost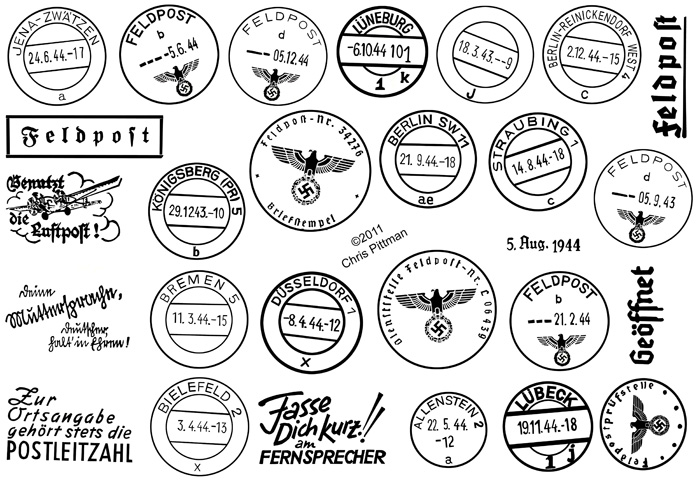 Set #6 contains 22 stamps to be used for Feldpost letters and German WWII mail in general. This set can be used for mail to and from the Front in 1943-44, and civilian mail as well. These stamps have all been exactly copied from original letters, only some dates have been changed to provide a complete range of dates within that time frame. These stamps include postal cancellations, military stamps and even a Feldpost censor stamp and are perfect for "mail call" or simply for creating reproduction letters as props to add detail to an impression. The stamps can be used for letters and also for official mail such as draft notices, death notices, etc.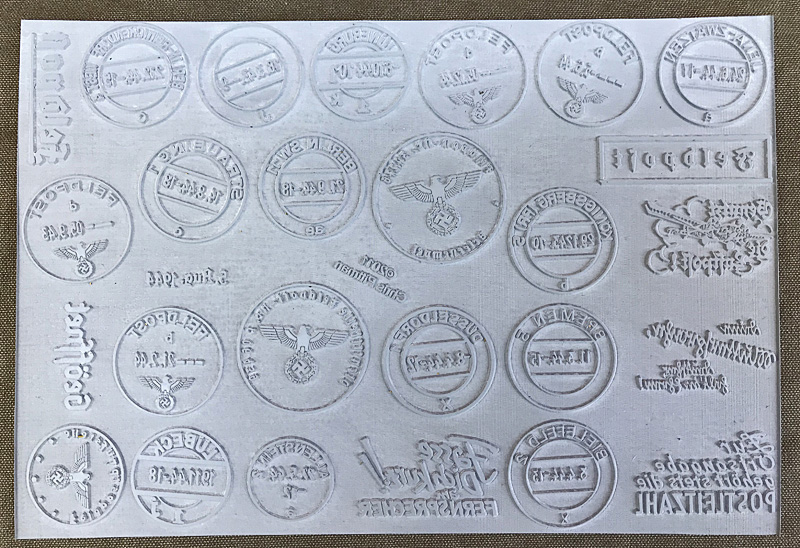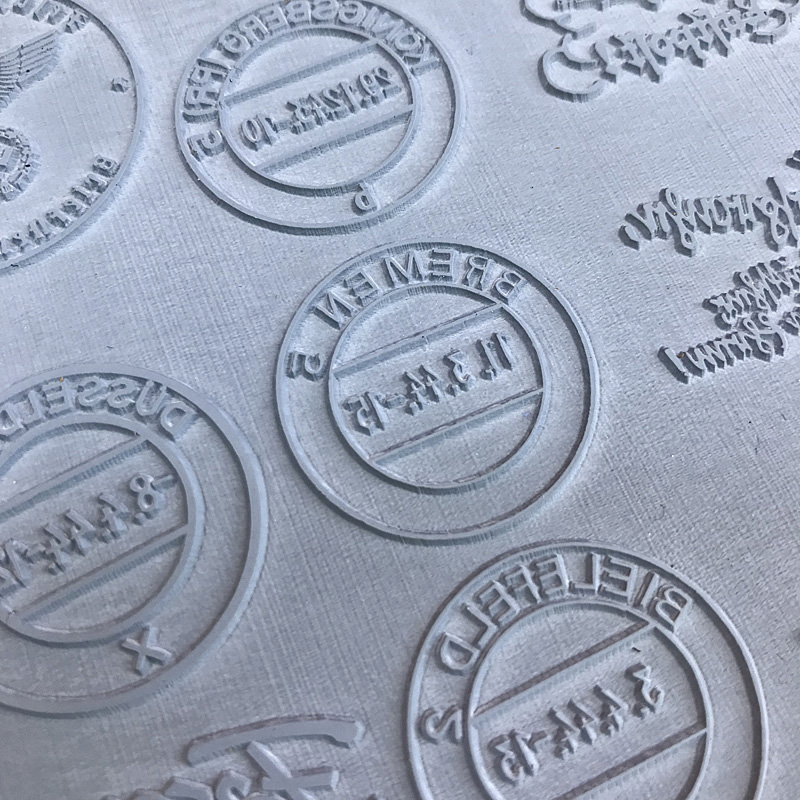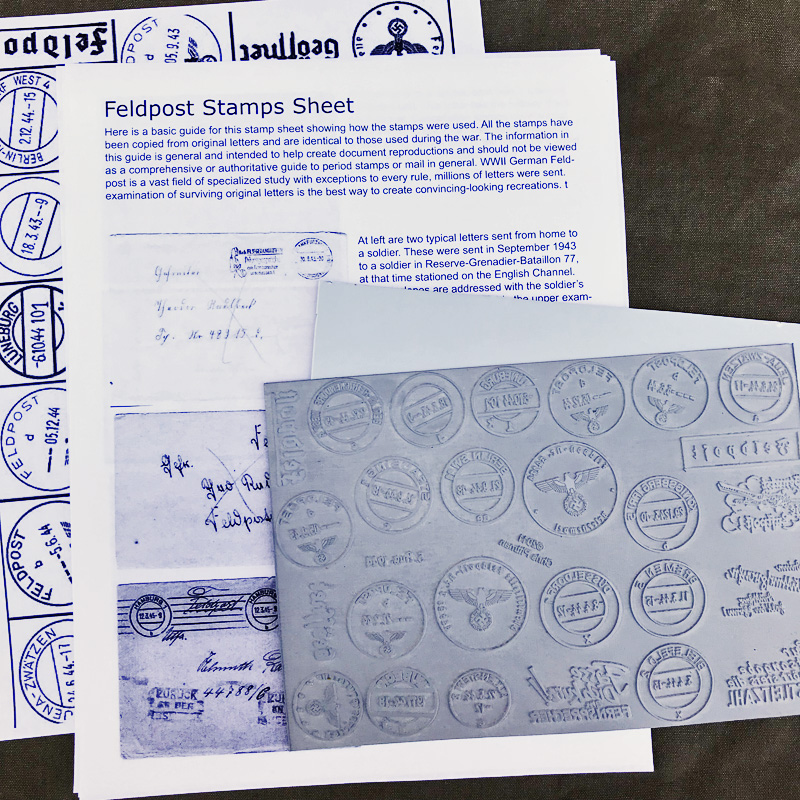 Stamp Sheet #6 includes the following stamps:
Cancels for letters from German towns and cities:
-Königsberg, 29 December 1943
-Bremen, 11 March 1944
-Bielefeld, 3 April 1944
-Duesseldorf, 8 April 1944
-Allenstein, 22 May 1944
-Jena-Zwätzen, 24 June 1944
-Straubing, 14 August 1944
-Berlin, 21 September 1944
-Lüneburg, 6 October 1944
-Lübeck, 19 November 1944
-Berlin-Reinickendorf, 2 December 1944
-Cancel with no location, 18 March 1943
Cancels for letters originating with the military:
-Feldpost, 5 June 1944
-Feldpost, 5 December 1944
-Feldpost, 5 September 1943
-Feldpost, 21 February 1944
-"5. Aug. 1944" date stamp, sometimes used as a cancel

Other stamps for mail:
-"Feldpost" stamp for letters and parcels, 2 versions
-"Briefstempel" round eagle letter stamp for Feldpost-Nr. 34276
-Round eagle Feldpost number stamp for a Luftwaffe unit
-Military censor "opened" stamp

TO ORDER: E-mail us at intrenches1945@gmail.com. The price for each sheet including the instructions and mounting cushion is $49 plus shipping (shipping rates are at the top of this page). Please specify which sheet or sheets you want to buy, we offer 8 different WWI and WWII stamp sets.
Home Page with other stamp sets and more.
Check Out What's New For Latest Updates and Current Projects
All photos and content Copyright 2010-2019 Christopher W Pittman and Nadine Wichmann